Esther - Abby's Mother
Mastamariner Corvette
---
Esther is at the heart of our home, into everything, onto everything, always there, always at the centre of everything. In her time Esther was a great natural mother and raised her pups impeccably now she has turned her attention to excelling as a doting grandmother and great grandmother who will baby sit any and every pupppy to which she can manage to gain access. Esther is the red carrier and during her breeding life produced 7 red and white puppies including the gorgeous Petra.
---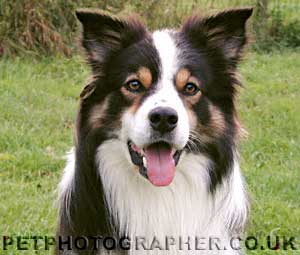 Woody - Barney's Father
Bekkis Virtuoso CDex UDex WDex TDex
photograph courtesy - Anna Åström
---
Woody is a Grandson of Show Champion Bekkis Kitemark and Show Champion Bekkis Genesis. Grandson of Show Champion Brooksbid Country Classic. Son of Sh.Ch. Grandver Master Copy, nephew to Petra and Esther.
Woody has a very kind and gentle temperament coupled with excellent working drive and outstanding conformation, he is Crufts qualified for life, has been awarded 4 Reserve Challenge Certificates in the Show Ring and achieved the highest standard in the demanding discipline of Working Trials.
---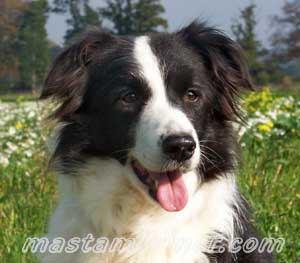 Cider - Hercules' and Esther's Mother
Abby's Grandmother
Caristan Cider of Mastamariner
photograph courtesy - Anna Åström
---
Cider was a very special Border Collie, the mother of Hercules, Scrumpy and Esther, Grandmother to Abby, Petra, Ruth, Rachel, and Britannia, sister to Merry, Aunt to Deborah and Great Grandmother to Spitfire. Cider is very much missed at Mastamariner, we are endebted to our beloved friend for the many qualities she lavished on her decendents and our warm memories of of her remain undiminished by time.
---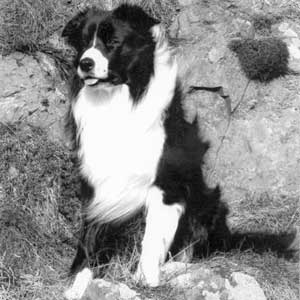 Show Champion Caristan Champers
Hercules' Father
photograph courtesy - Ward
---
We are not commercial breeders, we care very deeply about the homes in which our puppies will live. Before enquiring about puppies please read the conditions on the Puppy Homing Conditions Page of our web site very carefully, we are very choosy about the homes in which our puppies will live.
---
We only allow our puppies to go to loving, permanent homes with daytime company and lots of fun and affection. We only consider homes where children are older (at least 12 years or above) so that there will be time to be dedicated to the care and nurturing of a new family member and where a puppy will valued as an individual. We favour homes that have previous experience of dog ownership and who understand the time and commitment needed to fulfill the expectations and needs of a young dog.
Please note that;
WE DO NOT EXPORT OUR PUPPIES OR ALLOW OUR PUPPIES TO BE EXPORTED.
---